My ascent of the sacred Mount Takao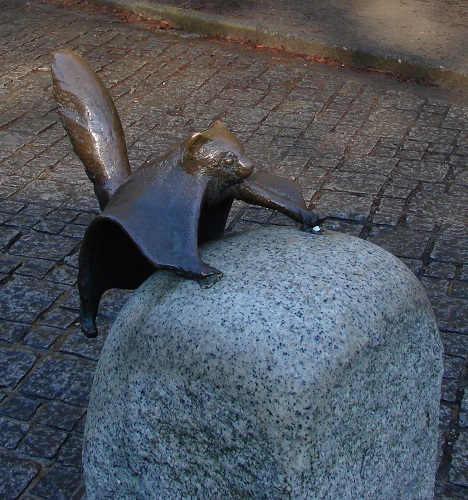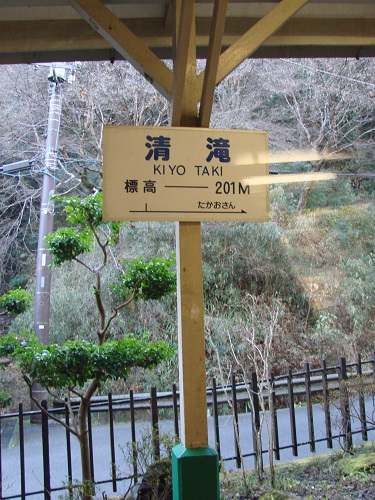 鼯鼠 musasabi-Japanese giant flying squirrel sculpture outside Kiyotaki Station
(base station of the funicular cable car line-the steepest railroad in Japan). 201m elevation Opened in 1927.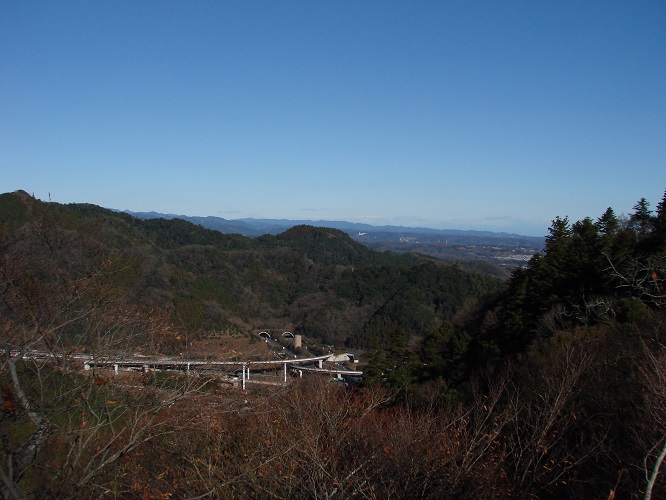 View from the cable car.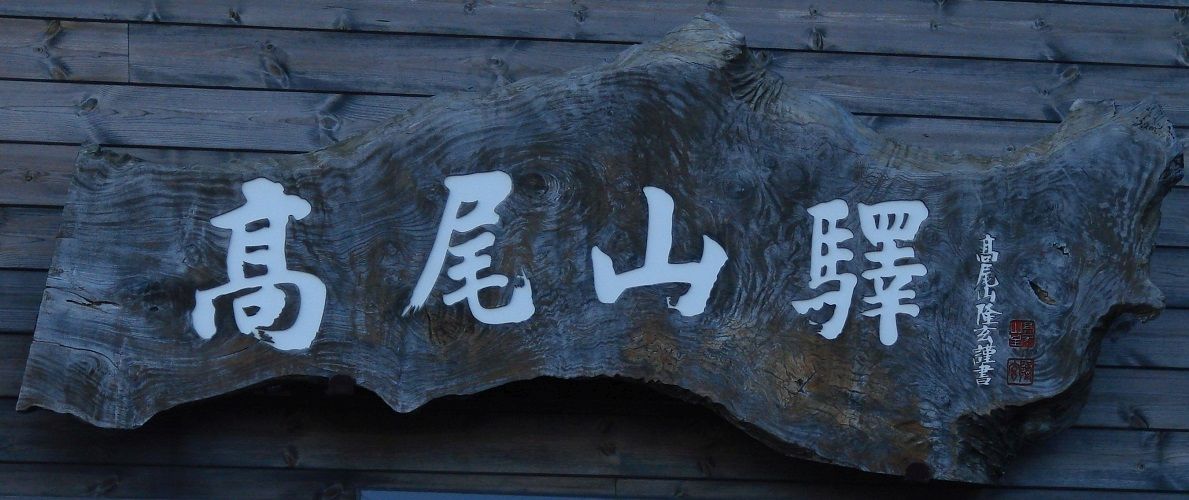 高尾山驛[駅] Takaosan Station (funicular cable car) 472m elevation
Omotesando Trail-entirely paved.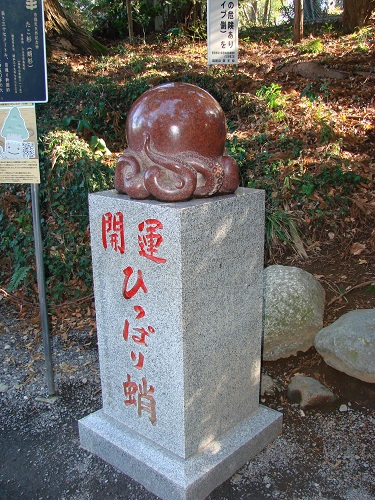 ひっぱり蛸 Hippari-tako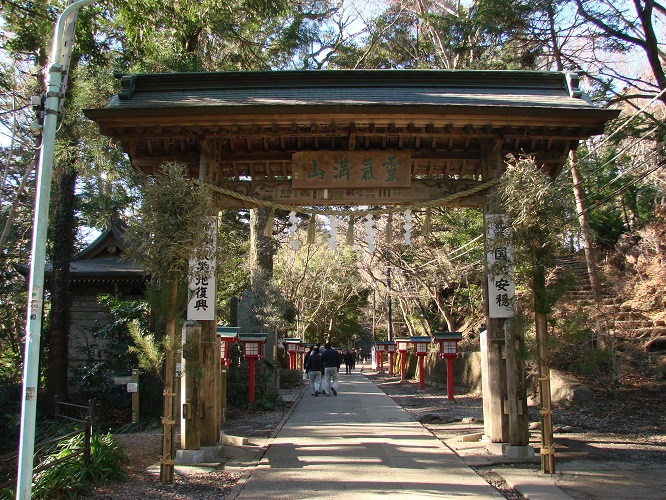 高尾山 薬王院 浄心門 Takaosan Yakuōin Jōshinmon 霊氣満山 Reiki Manzan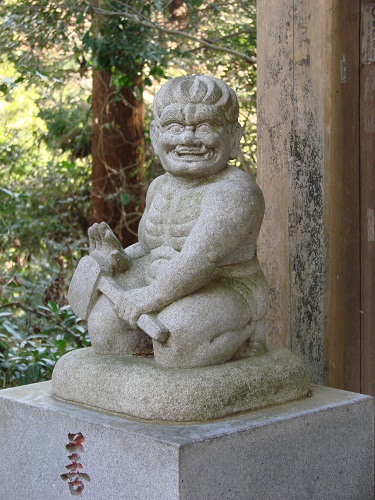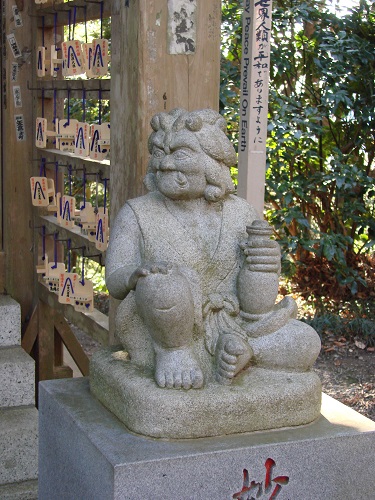 Just past the Jōshinmon Gate on the left is 神変堂 Jinbendo which has a pair of oni (demons) on guard by the shrine.
「善童鬼」 Zendoki (left) 「妙童鬼」 Myodoki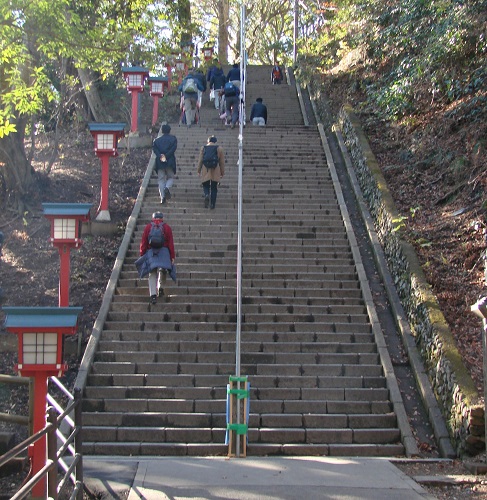 男坂 Men's Slope Stairs (108 steps)
I ascended via the Ladies' Slope.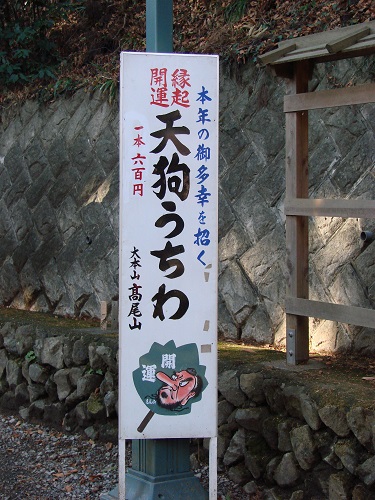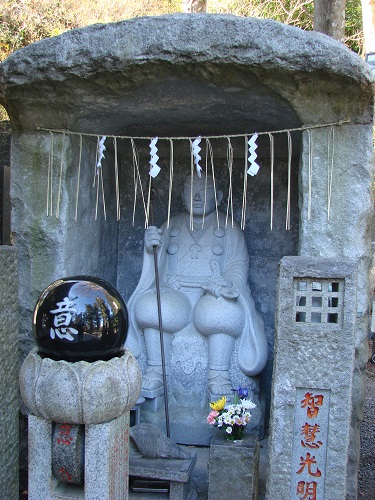 羽団扇 hauchiwa [magical feather fan]. The sign offers a tengu fan for 600 yen!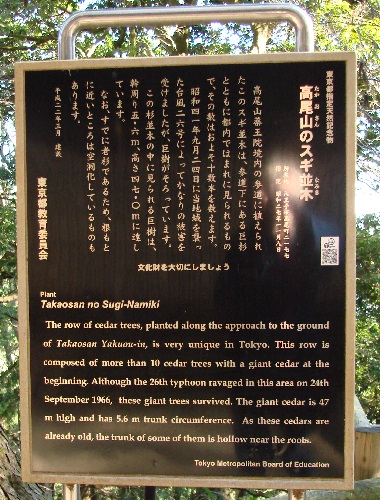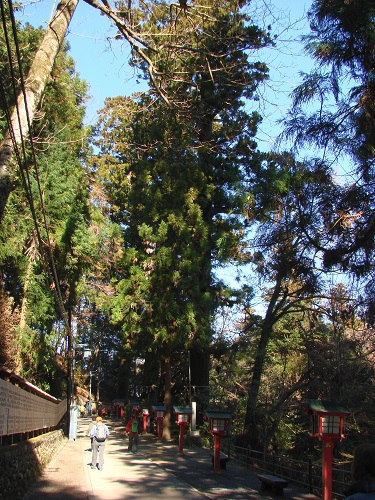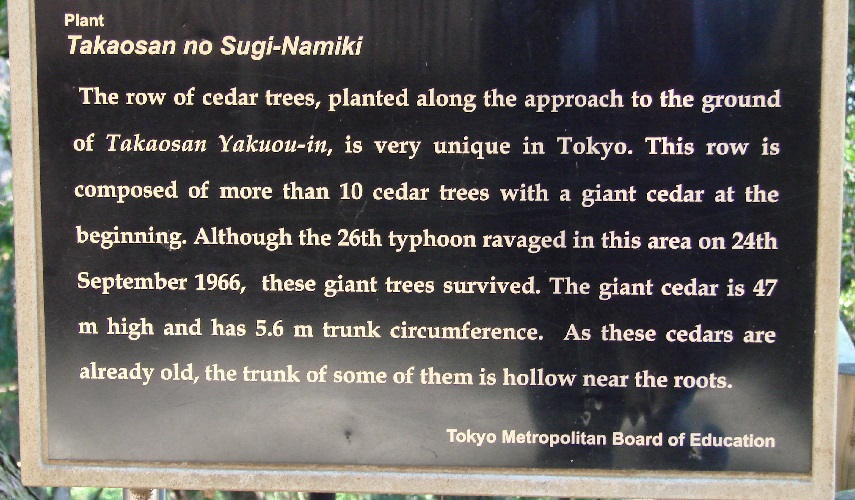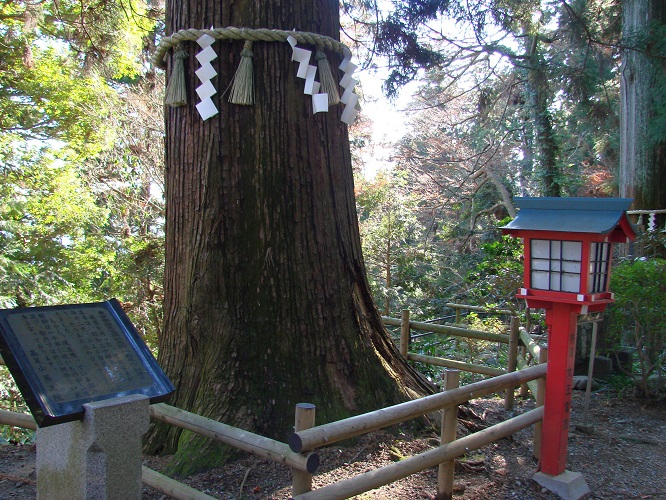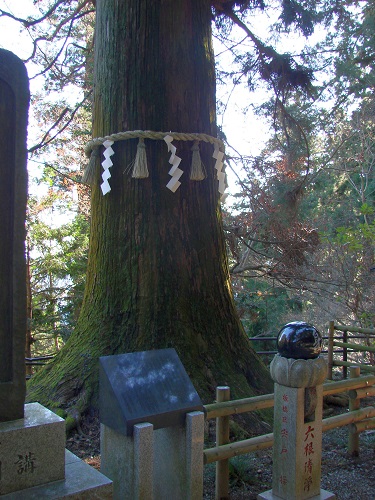 高尾山の杉並木 Takao's avenue of sacred giant cedars (bearded with moss).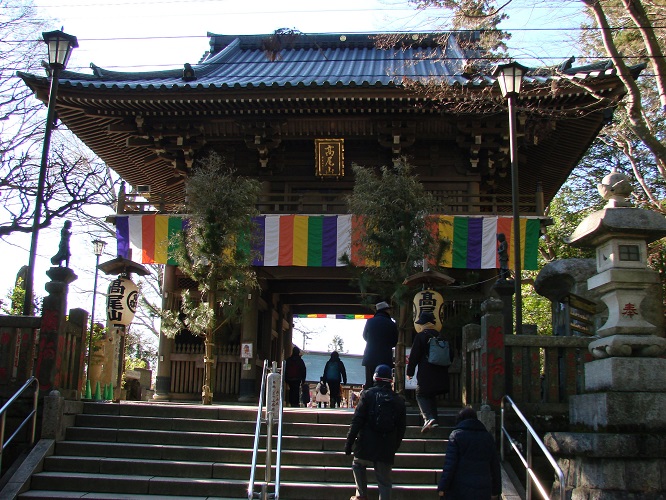 薬王院 山門 Sanmon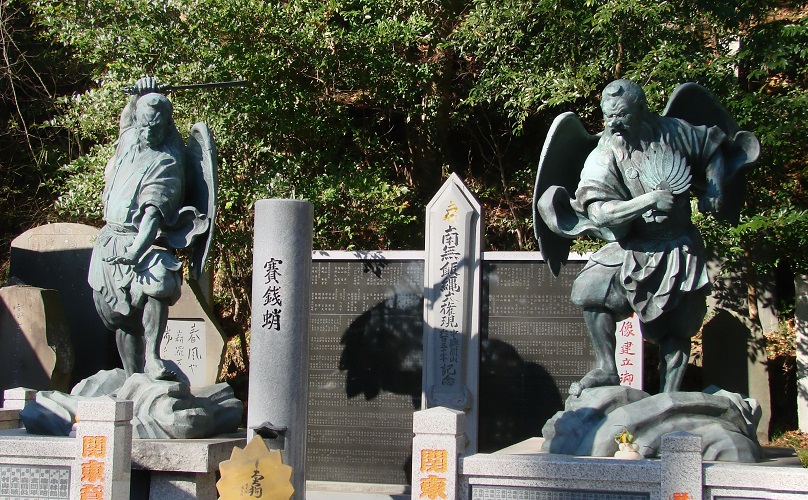 👺 The 鼻高天狗 hanatakatengu [tall/long nosed tengu] (right) holds a magic feather fan
while the 烏天狗 karasu [crow] tengu brandishes a sword.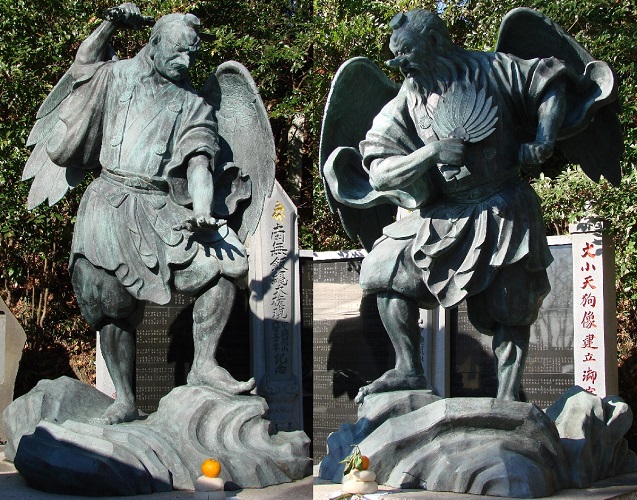 I love the billowing sleeves.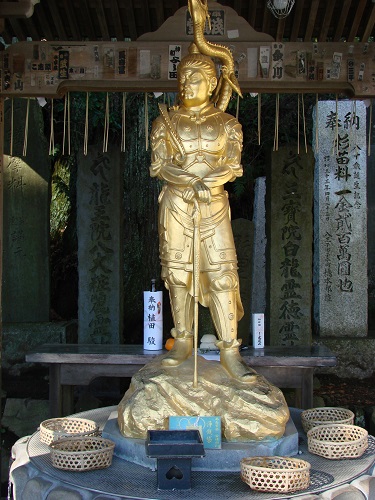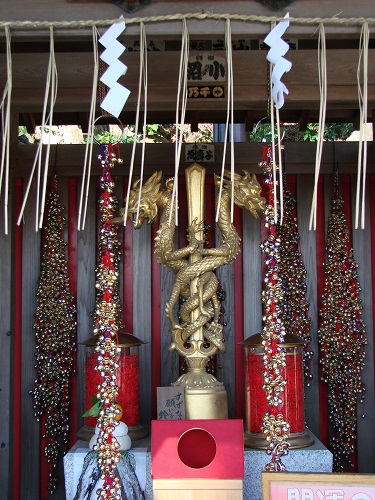 八大龍王 Hachidairyūō Eight Great Dragons King - Money laundering!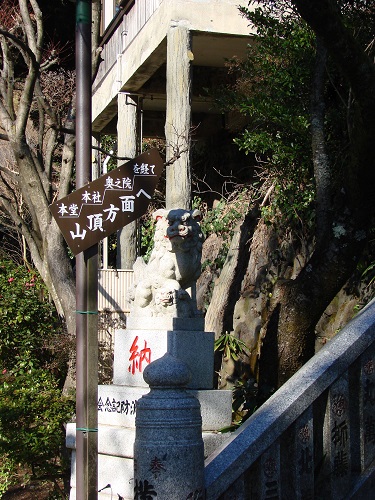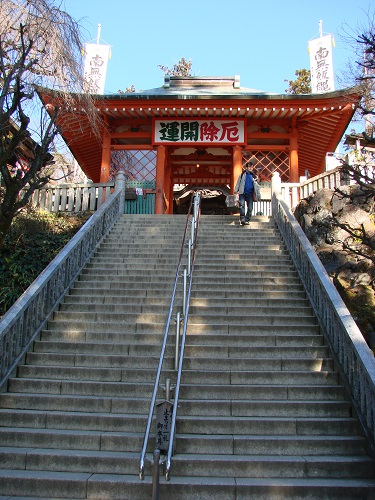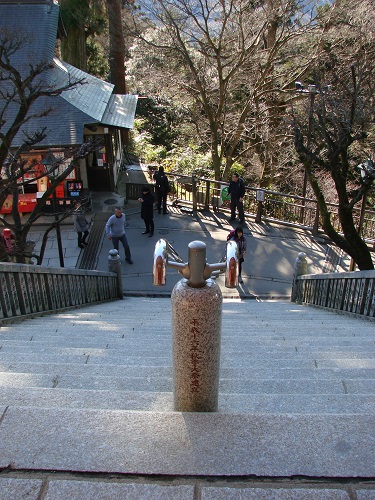 「仁王門」 Niōmon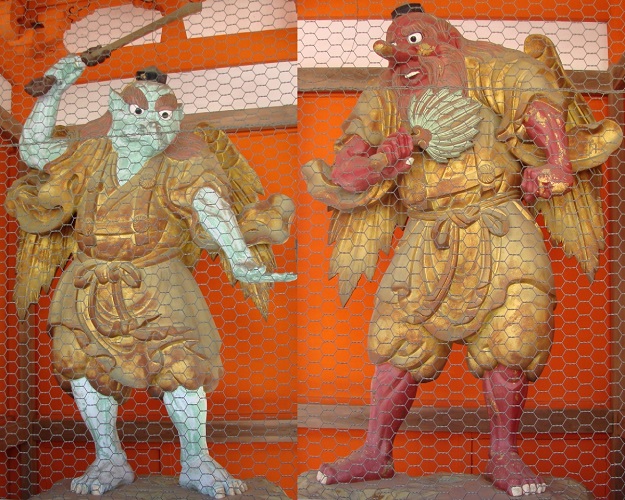 Tengu at the back of Niōmon Gate.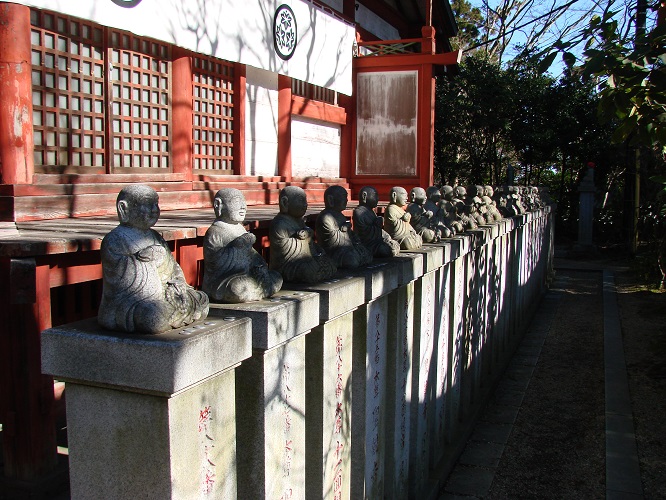 高尾山八十八大師霊場 Takao 88 Daishi Reijō
The building is ringed (or rather, squared) with 88 images of the incarnation of Buddha.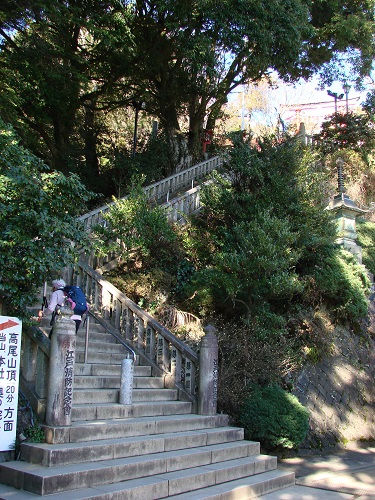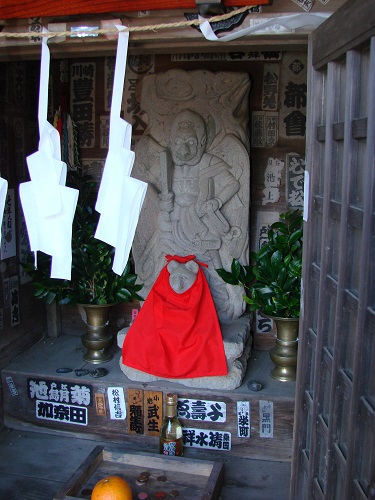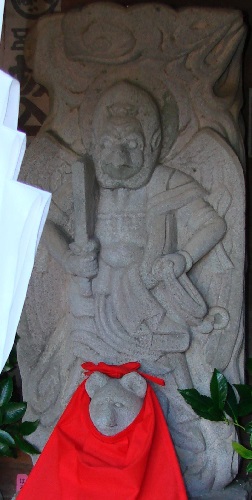 Stairs from Yakuou-in to Īzuna Gongen Shrine.
On the landing is 飛飯縄堂 Hi īnawa-dō shrine (a karasu tengu with a sword and rope riding a white fox).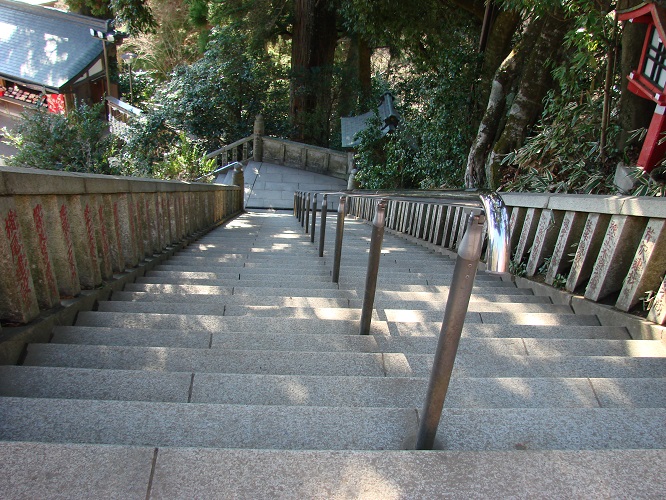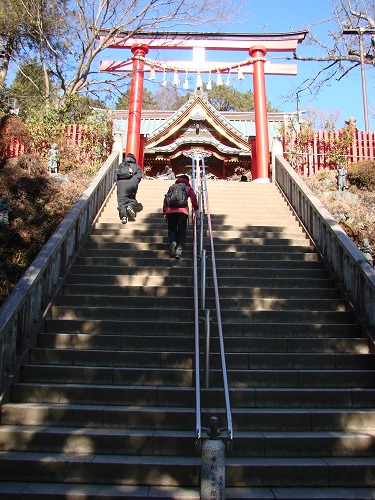 Looking down on 飛飯縄堂 Hi īnawa-dō shrine. Final approach to the Torii gate before Īzuna Gongen Shrine.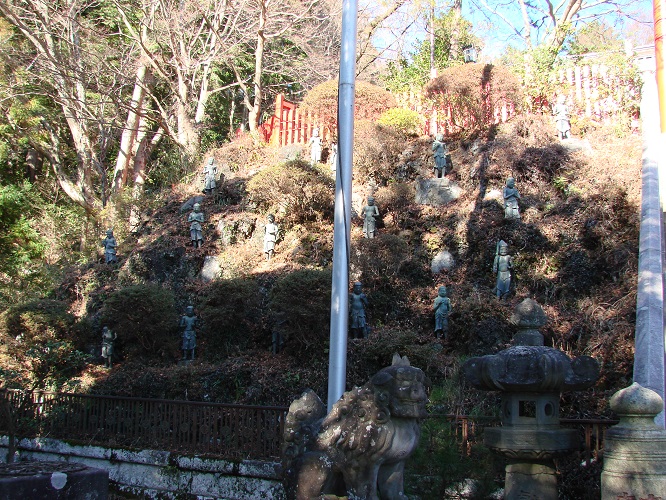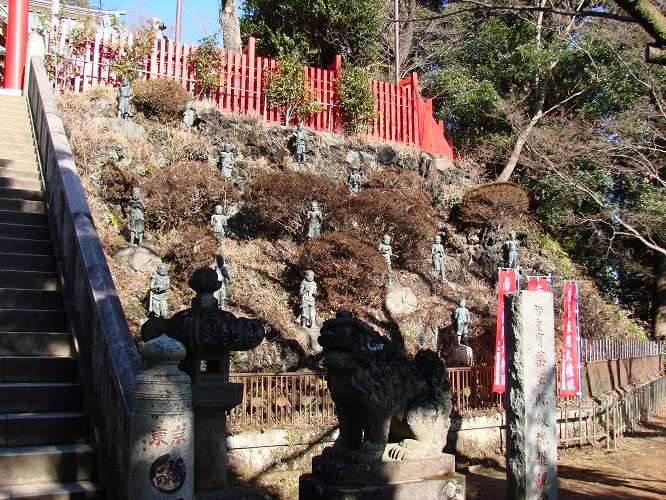 Statues on the left and right of the stairs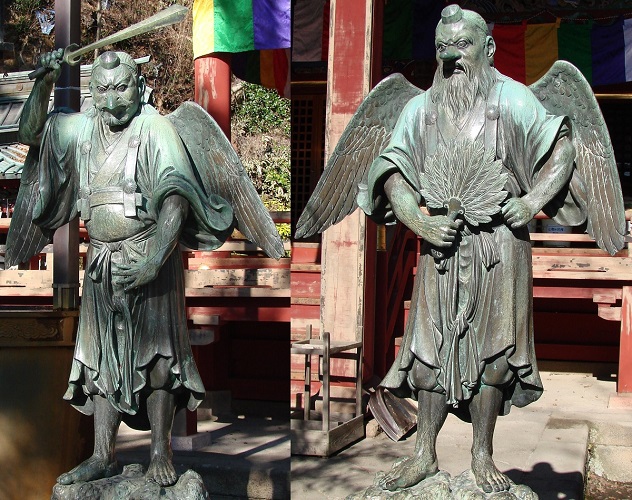 👺 Pair of tengu gardians at 飯縄権現社 Īdzunagongen-sha.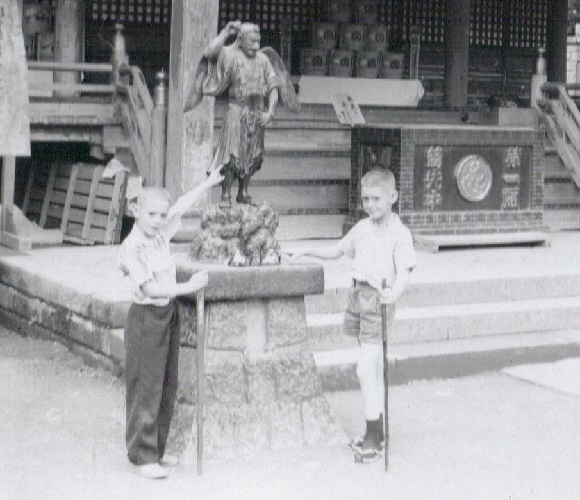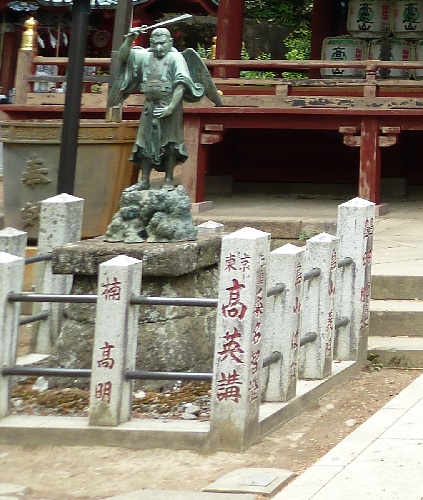 👺 My brother Michael and I circa 1959-61. (right-the barrier around the statue today).
If you can tear your eyes from my thighs you will note I am climbing in geta. I know the tengu of Mt. Takao would approve.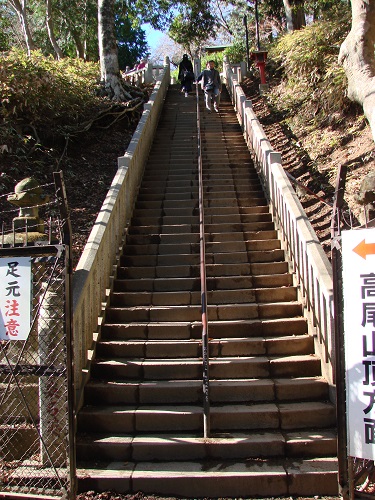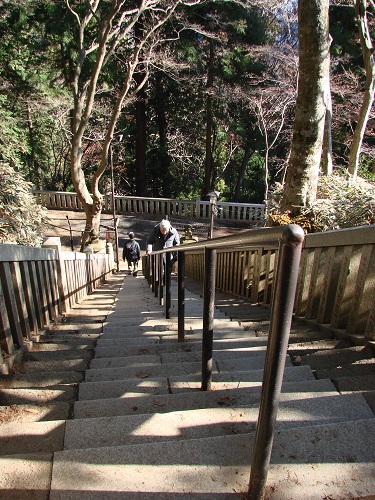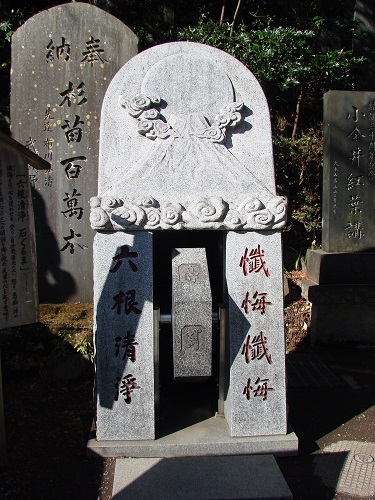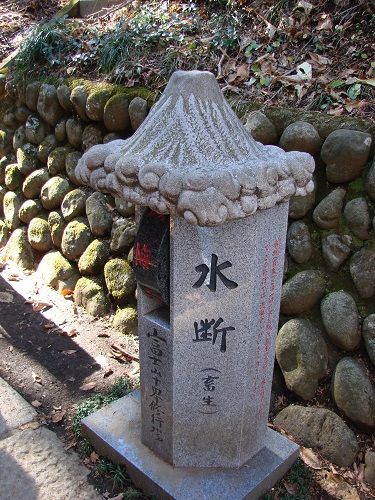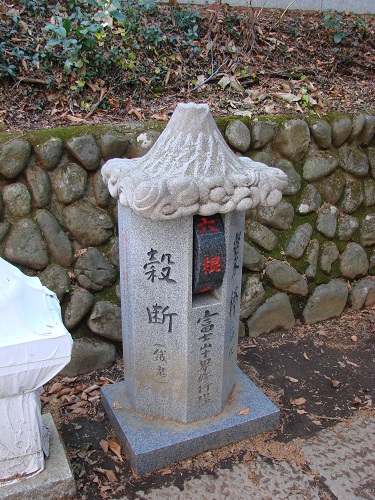 Fuji capped prayer wheels.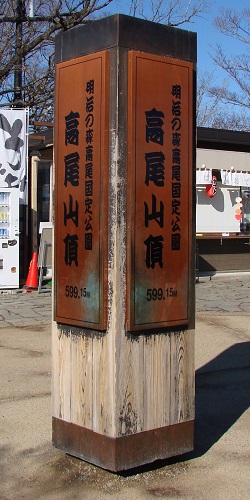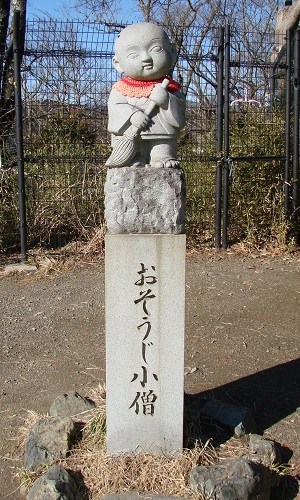 高尾山頂 Takao summit (599 meters)/おそうじ小僧 Osōji Kozō [cleaning acolyte].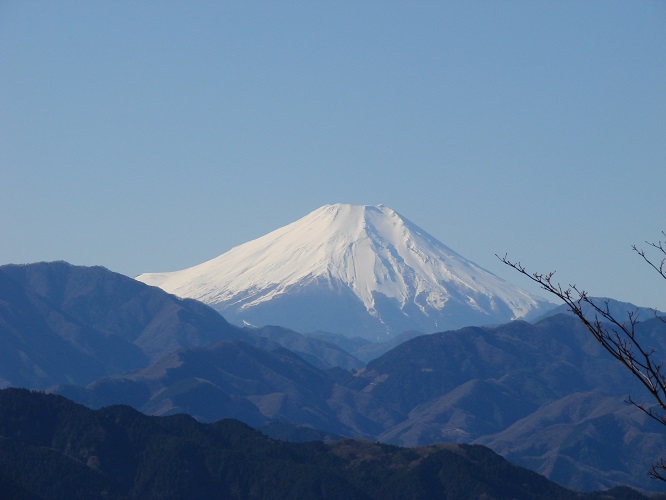 高尾山大見晴園地 Takaosan ōmi harashi enchi View of Mt. Fuji from the summit overlook.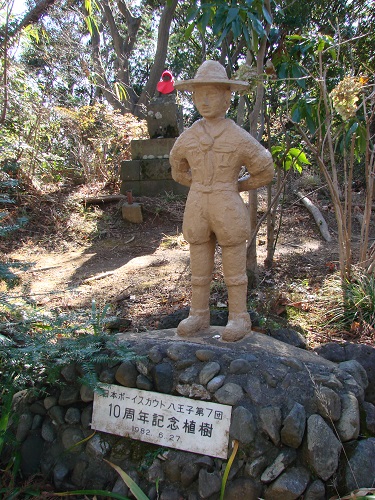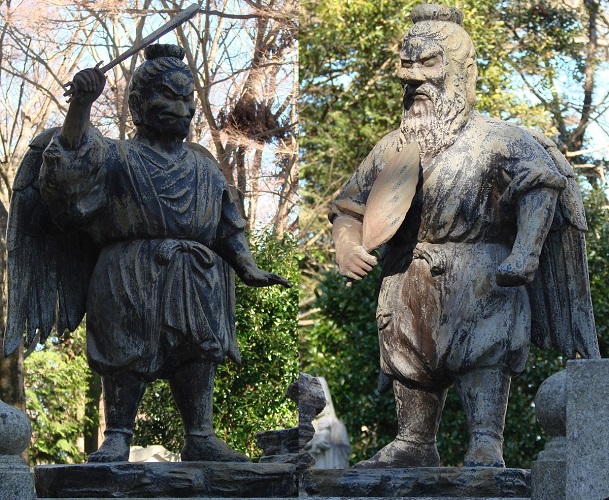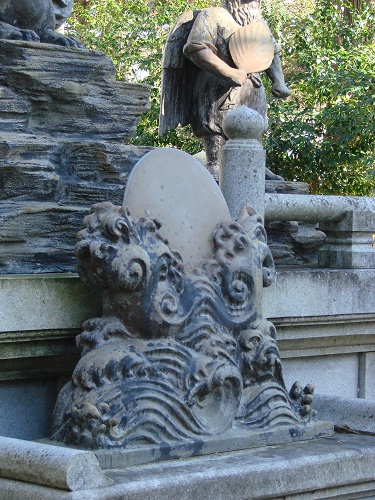 Īdzunagongen with (dwarvish) tengu attendants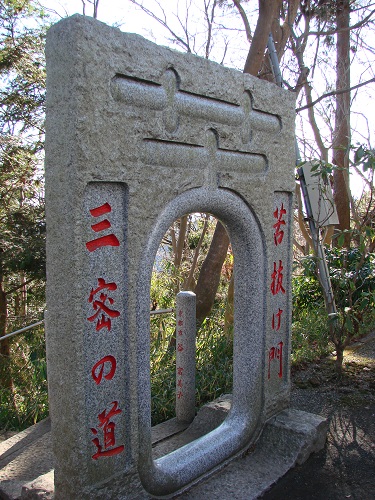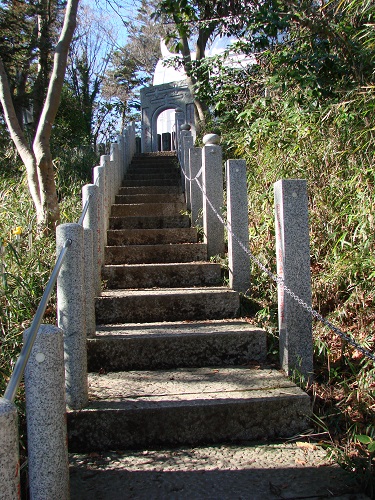 「苦抜け門」 Ku nuke-mon 三密の道 Sanmitsu no michi
Associated with Shingon sect (esoteric Buddhism), the Way of the Three Secrets is correctness in body, words and thoughts.
In the Age of the Coronavirus, the Japanese government has adopted the three C's:
Closed Spaces, Crowded Places & Close-contact Settings.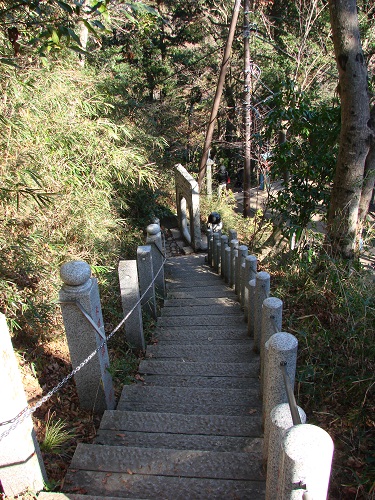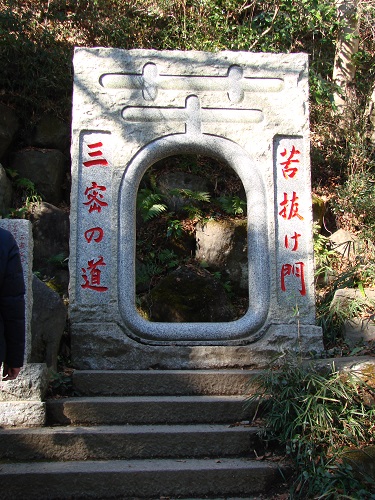 Built in 2014. The lower portal is not far from the top of the men's slope stairs.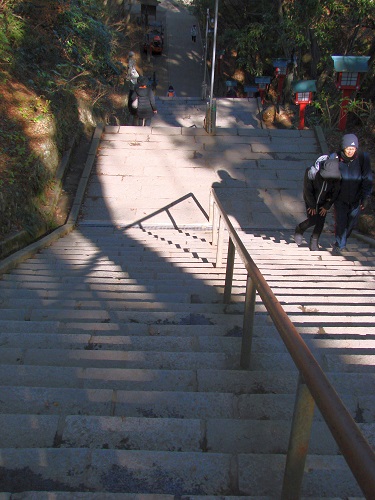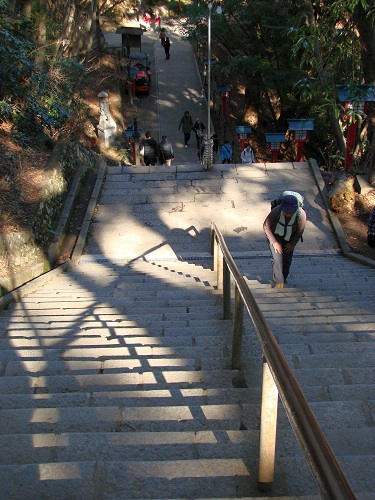 View from the top and upper landing of the Men's Slope stairs.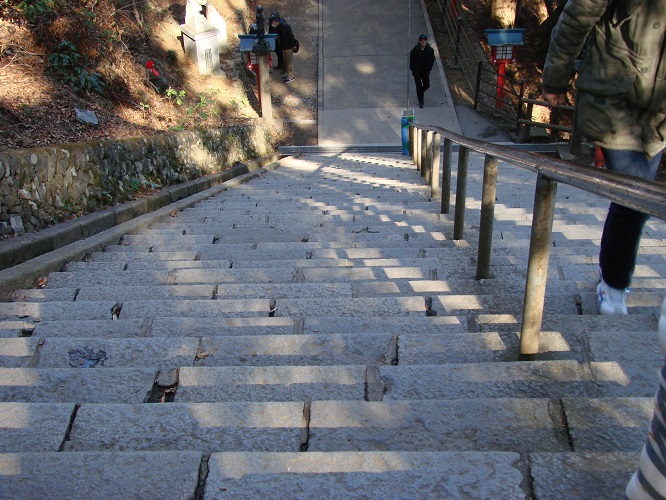 View from the lower landing to the bottom of the Men's Slope Stairs.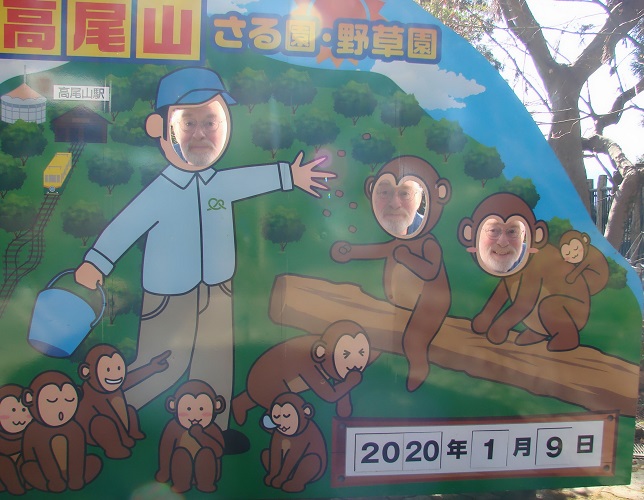 As the monkeys will attest, I climbed Takao on Thurs. 9 January 2020.
Note the funicular cable car at the left.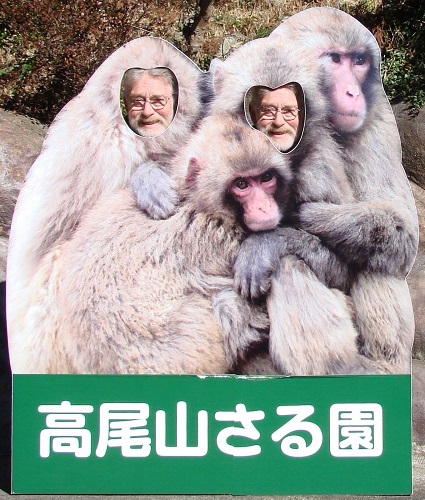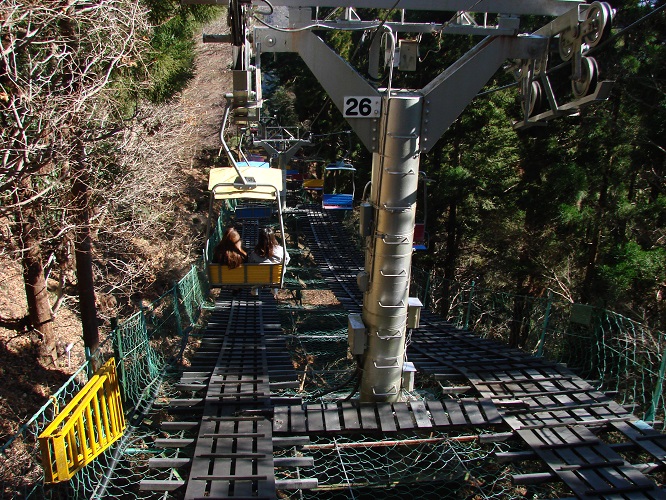 Echo (chair) Lift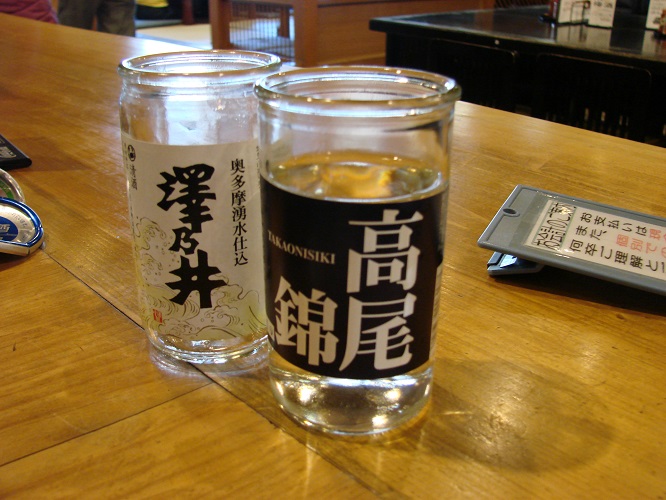 Takao Nishiki Sake (one cup)/Sawa no Ii (another Tokyo sake)